Fully Integrated into Google Classroom, Easy-to-Use, Multi-Platform – Soundtrap Helps Schools Transition to Innovative Music Educational Technology
BETT – London, England – Jan. 25, 2017 – Soundtrap, the online collaborative music and podcast recording studio, is expanding its participation in Google for Education's "Creative Apps for Chromebooks" program to include the UK and Nordics. Soundtrap, from Sweden, which launched to the public in early 2015, rolled out an education version of its audio recording platform one year later, with a predominant focus on the US, Europe and Australia. Since then, more than 200 new schools each week embrace Soundtrap as a preferred educational tool in their classrooms. Moreover, Soundtrap has now more than one million users worldwide.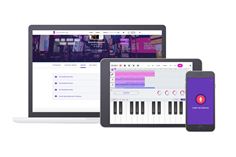 Soundtrap works across iOS, Android, Chromebook, Mac and Windows
At BETT, Soundtrap will showcase the many advantages of its education technology, including its ease of use and versatility across devices. Soundtrap is accessible to almost every device user because it works across iOS, Android, Chromebook, Linux, Mac and Windows platforms, making it ideally suited for project-based learning and collaborative assignments. All projects are saved in the cloud in a safe, protected environment, which means they can be accessed at any time, from any device. This makes Soundtrap especially suited to the classroom. (See video: https://youtu.be/2ViLQD_2RK4) Soundtrap was nominated as a finalist for the BETT Awards 2016 for best International Digital Education Resource.
"From arts and music to math and computer science, we are hearing more and more examples of creative teachers incorporating Soundtrap's technology into a range of subjects and curricula in the UK and around the world," said Soundtrap CEO Per Emanuelsson. Today, with mobile devices as essential to young people's daily lives as breathing, Soundtrap's user-friendly interface gives our youngsters the perfect outlet to foster critical skills for the future, and to learn in completely new ways."
Continued Emanuelsson, "Teachers around the world use Soundtrap in a myriad of ways – podcasts and songs are just the starting point. One teacher we know created a "celebrity interview hack" podcast, where the kids searched out, edited and remixed themselves into YouTube interviews with cultural icons. Another teacher we know used Soundtrap to create jingles and background music for movies. Yet another teacher brought together musicians from around the world, turning school kids into composers to create an album of songs which they sold in iTunes."
Also included in the Creative Apps for Chromebooks are WeVideo and Explain Everything. They are available from Chromebook reseller partners with special pricing when all three apps are purchased together. Soundtrap for Education is also available separately through https://soundtrap.com/edu where discounted pricing for schools is offered at less than £4 per seat per year. Soundtrap will showcase its solution at the BETT (British Education and Training Technology) London conference, Jan 25-28 at booth #C482.
About Soundtrap
Soundtrap is the first cloud-based audio recording platform to work across iOS, Android, Chromebook, Mac and Windows platforms, enabling users to co-create music anywhere in the world. Headquartered in Stockholm, Sweden, the company also has an office in Silicon Valley, California, US. Soundtrap provides an easy-to-use music and audio creation platform for all levels of musical interest and abilities, and is being used by the K-12 through higher-education markets. For more information, visit: http://www.soundtrap.com/.
Photos: https://www.flickr.com/photos/[email protected]/sets/72157654452327362
Pricing: https://www.soundtrap.com/pricing?tab=education
PR for Soundtrap
Aoife Kimber
[email protected]
+ 1 650 773 7288